How To Play Online
The Victorian Backgammon Association's preferred platform for online play is Safe Harbour Games.
Please follow the instructions below to join us for any of our events which are also listed in our events calendar.
Step 1 – Sign up with Safe Harbour Games
Visit the Safe Harbour Games website and create an account. Registration is free
Download the software, then run and install it – Microsoft Windows | Mac OS
Browse to the Backgammon Room (we suggest you add this link to your browser favourites)
From the Backgammon Room, select the link to the 'Doubling Cube' room, which is were we play our matches. This link will open a new window.
We generally play at the bottom of the room from table number 150 backwards, so you will need to scroll down
Note: if you have an existing account on Safe Harbour Games, simply sign in via the 'My Account' button at the top right of the Safe Harbour Games website. We cannot provide technical support for getting Safe Harbour Games up and running on your computer.
Step 2 – Browse to our Jitsi online video conference room
We use the Jitsi video conference software to arrange matches, celebrate our wins, lament bad dice rolls, and generally enjoy each others' company. This is more important than ever given current circumstances. The Jitsi software runs in your chosen web browser.
You can choose to use your webcam and/or microphone prior to entering our room.
Click the following link to join us: meet.jit.si/vicbg
Once you click the link, your web browser will display the following important information: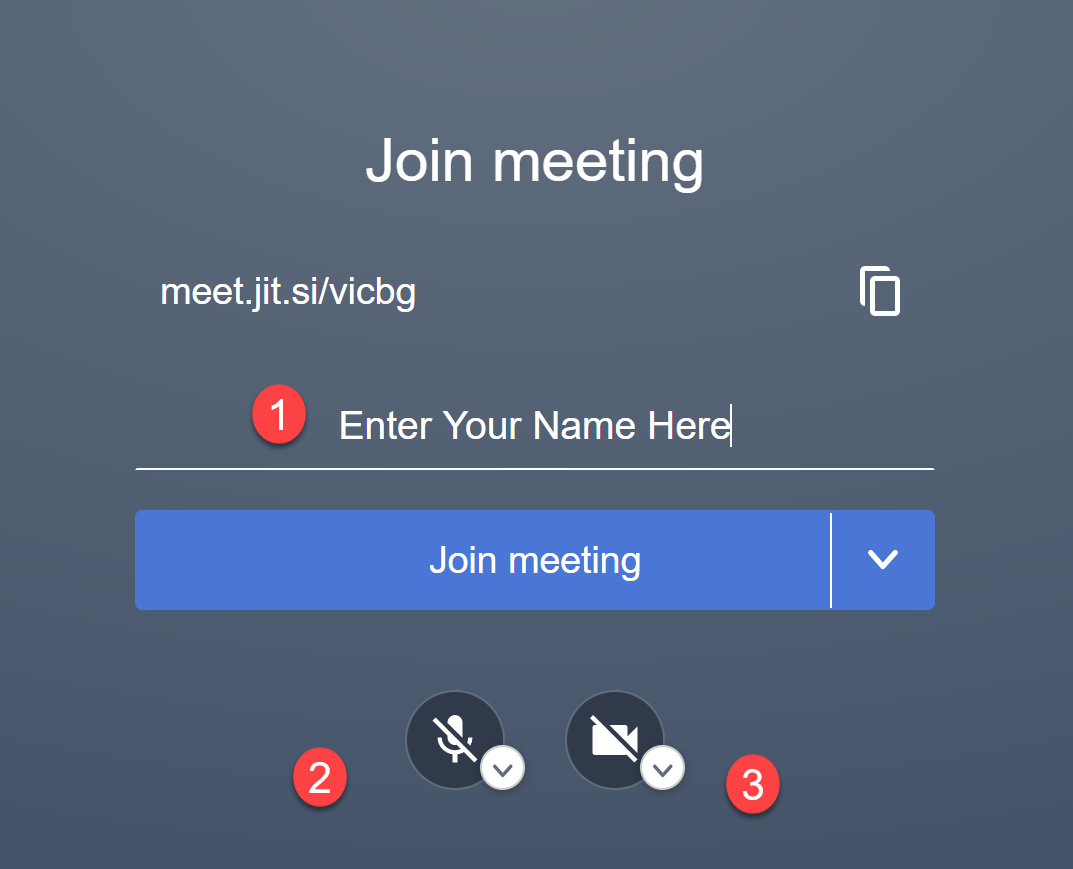 Perform the following actions as per the image above:
Enter your name – your first name will do
Choose your microphone using the drop down arrow on the microphone icon
Choose your webcam using the drop down arrow on the camera icon
Click the long blue button 'Join Meeting'.
Once you enter the room, you can toggle either or both of these option off and on again at any time.
Only use the video conferencing facility if you agree to behave in a civil manner and extend respect to every other participant.